Requirements: Level 110+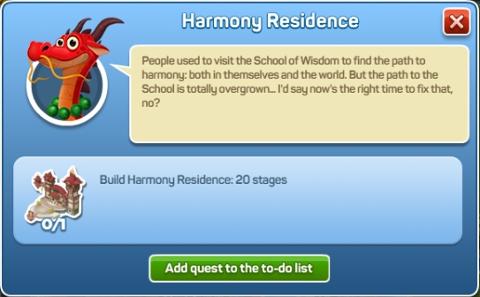 The quest steps are untimed, take as long as needed for restoring the Harmony Residence itself. However, if you manage to do it in 14 days from the moment you receive the offer on the right side of the screen, you will also get the Konbini as a bonus!
Konbini: 4000 coins, 2-5 energies, 1-3 daffodils every 24 hours size 4x4. Can be placed everywhere.
20 new land expansions available!

If you run out of time and do not fulfill the conditions of the promotion, then you can extend the time of the promotion for a fee.


You will need to do tasks in order to get the keys needed for the construction of the Harmony Residence.


This is a double chain quest: tasks and construction of the building. They change each other, so it's like a queue: task, construction, task, construction, etc.


Harmony Residence I
Buy 2 expansions
Collect 24 Tourist Maps (Collect profits from upgraded rent a scooter)
Collect 14 Lawnmowers (collect profits from Auto Repair Shop)

Restoration Stage 1/20

Harmony Residence II
Collect 10 Keys to old Doors (remove obstacles on the map by Harmony Residence)
Collect 9 Bricks (Cargo Port)
Collect 9 Wooden Beams (Cargo Port)

Restoration Stage 2/20

Harmony Residence III
Buy 2 expansions
Produce 28 lots of Off-Road Vehicles ( Car Factory)
Collect 14 Petrol Cans (Collect profits from Petrol Station, Upgraded Petrol Station)

Restoration Stage 3/20

Harmony Residence IV
Collect 17 Keys to Old Doors (remove obstacles on the map by Harmony Residence)
Collect 9 Work Tools (Cargo Port)
Collect 9 Pumps (Collect Profits from Water Tower, Upgraded Water Tower)

Restoration Stage 4/20

Harmony Residence V
Buy 2 Expansions
Build Fruit Farm (Buy in Shop under Production Buildings)
Grow 7 Crops of Grapes (fruit farm)

Restoration Stage 5/20

Harmony Residence VI
Collect 22 Keys to Old Doors (remove obstacles on the map by Harmony Residence)
Collect 5 Chaise Lounges (Furniture Factory)
Produce 8 Lots of Stained-Glass Windows (Upgraded Creative Studio)

Restoration Stage 6/20

Harmony Residence VII
Buy 2 Expansions
Collect 22 Cushions (Collect Profits from Wooden House)
Ask Friends for 11 Oil Burners

Restoration Stage 7/20

Harmony Residence VIII
Collect 19 Keys to Old Doors (remove obstacles on the map by Harmony Residence)
Produce 14 Lots of Silk (Textile Factory)
Collect 12 Paper Lanterns~You get 3 items each time (Collect profits from School, Valley School)

Restoration Stage 8/20

Harmony Residence IX
Buy 2 Expansions
Build a Fruit Market (Buy in Shop under Business)
Build a Sushi Bar (Buy in Shop under Business)

Restoration Stage 9/20

Harmony Residence X
Collect 23 Keys to Old Doors (remove obstacles on the map by Harmony Residence)
Collect 19 Mother of Pearl Shells (Collect Profits from Jewelry Shop)
Collect 14 Kabuki Masks (Collect Profits from Florist)

Restoration Stage 10/20

Harmony Residence XI
Buy 2 expansions
Build a Seafood Shop (Buy in the shop under Business)
Ask friends for 11 cups of chamomile tea

Restoration Stage 11/20

Harmony Residence XII
Collect 23 Keys to Old Doors (remove obstacles on the map by Harmony Residence)
Ask Friends for 14 Flashlights
Collect 6 UV Lamps (Collect Profits from Bowling Alley)

Restoration Stage 12/20

Harmony Residence XIII
Buy 2 expansions
Produce 14 Lots of Ravioli ( Ready-to-eat Food Factory)
Collect 15 Sunscreens (Collect profits from Cosmetic Boutique)

Restoration Stage 13/20

Harmony Residence XIV
Collect 28 Keys to Old Doors (remove obstacles on the map by Harmony Residence)
Collect 16 Helmets (Collect profits from Hat Boutique)
Collect 5 Metal Beams (Cargo Port)

Restoration Stage 14/20

Harmony Residence XV
Buy 2 expansions
Collect 8 Mulled Wine (Collect profits from House with flowers, Country House)
Produce 16 lots of Choco-logs (Candy Factory)

Restoration Stage 15/20

Harmony Residence XVI
Collect 27 Keys to Old Doors (remove obstacles on the map by Harmony Residence)
Collect 6 Chopsticks (Collect Profits from Seafood Shop)
Collect 14 Party Crockeries (Collect profits from Upgraded Colonial House)

Restoration Stage 16/20

Harmony Residence XVII
Buy 2 expansions
Collect Profits From Tokyo Tower 2 times
Collect Profits from Upgraded Pub 14 times

Restoration Stage 17/20

Harmony Residence XVIII
Collect 29 Keys to Old Doors (remove obstacles on the map by Harmony Residence)
Collect 2 Samurai Swords (Collect Profits from Japanese Castle)
Collect 14 Freeze Gel Tubes (Collect profits from Convenience Store, Upgraded Convenience Store)

Restoration Stage 18/20

Harmony Residence XIX
Buy 2 expansions
Produce 12 Lots of Satchel (Haberdashery Workshop)
Produce 14 lots of Smart Watches (Upgraded Electronics Plant)

Restoration Stage 19/20

Harmony Residence XX
Collect 32 Keys to Old Doors (remove obstacles on the map by Harmony Residence)
Build 1 Japanese Apartment ( Buy in the shop under Residence)
Collect 14 CandyFlosses (Collect Profit from Cinema)

Restoration Stage 20/20