There are no timers in this quest - you can do the tasks as long as you need to.
20 new land expansions available!

The obstacles to be removed can be found if you click the Parcel icon:
To start the quest, you need to add the quest to your to-do list.
REMEMBER: You need to buy land next to the last piece you bought then work your way up to the new area!!
Once you have bought all the land, then you will need to buy these first 2 expansions to start:
After that, the quest will appear in the game.
Stage 1
Buy 2 pieces of land near the Japanese Gardens
Collect 24 Tourist Maps- Collect profits from Upgraded Rent-a-Scooter
Collect 14 Binoculars- Collect profits from Hostel, Upgraded Hostel

Stage 2
Collect 7 Master Keys- Remove obstacles on the map near the Japanese Gardens
Collect 14 Feather Dusters- Collect profits from Shoe shop and Upgraded Shoe Shop
Collect 14 Axe- Collect profits from Upgraded Colonial House

Stage 3
Buy 2 pieces of land near the Japanese Gardens
Produce 9 Coffee Tables- Furniture Factory
Collect 30 Chairs- Collect profits from Family Restaurant

Stage 4
Collect 12 Master Keys- Remove obstacles on the map near the Japanese Gardens
Produce 9 Eco Concrete Slabs- Cargo Port
Collect 6 Bamboo Napkins- Collect profits from Seafood Shop

Stage 5
Buy 2 pieces of land near the Japanese Gardens
Collect 30 Walkie-Talkies- Collect profits from Shopping Center
Collect 30 Thermos- Collect profits from Shopping Center

Stage 6
Collect 16 Master keys- Remove obstacles on the map near the Japanese Gardens
Collect 14 Rakes- Collect profits from Summer house, Upgraded Summer house
Collect 14 Bars of Soap- Collect profits from Cosmetics Boutique

Stage 7
Buy 2 pieces of land near the Japanese Gardens
Have 6 Dental Surgery buildings
Collect 15 Floss- Collect profits from Dental Surgery

Stage 8
Collect 19 Master Keys- Remove obstacles on the map near the Japanese Gardens
Ask friends for 10 Bamboo Stems
Ask friends for 10 Ornamental Stones

Stage 9
Buy 2 Land Pieces near the Japanese Gardens
Collect 10 Rubber Boots- Collect profits from Luxury House
Collect 15 Magnifying Glasses- Collect profits from Dental Surgery

Stage 10
Collect 28 Master Keys- Remove obstacles on the map near the Japanese Gardens
Collect 18 Crystal Balls- Collect profits from House with a Pond
Collect 12 Books- Collect profits from School, Valley School


Stage 11
Buy 2 pieces of land near the Japanese Gardens
Ask friends for 10 Cups of Chamomile Tea
Produce 7 Smoked Salmon- Upgraded Ready-To-Eat Food Factory

Stage 12
Collect 27 Master Keys- Remove obstacles on the map near the Japanese Gardens
Collect 14 Fertilizer-Farm Beetroot
Collect 27 Garden Tool Sets- Collect profits from Houseplant Store

Stage 13
Buy 2 pieces of land near the Japanese Gardens
Collect 12 Horticulturelist Handbooks- Collect profits from Bookshop
Collect 27 Magnolia- Collect profits from Townhouse, Eastern House

Stage 14
Collect 30 Master Keys- Remove obstacles on the map near the Japanese Gardens
Collect 9 Pumps- Collect profits from Water Tower, Upgraded Water Tower
Ask Friends for 10 Royal Carp

Stage 15
Buy 2 pieces of land near the Japanese Gardens
Ask Friends for 10 Oil Burners
Collect 8 Yoga Mats- Collect profits from Luxury Apartments

Stage 16
Collect 33 Master Keys- Remove obstacles on the map near the Japanese Gardens
Produce 9 Wooden Beam- Cargo Port
Ask Friends for 10 Japanese Tile

Stage 17
Buy 2 pieces of land near the Japanese Gardens
Collect 14 Saplings- Collect profits from Summer House, Upgraded Summer House
Collect 6 Dowsing Rods- Collect profits from Genie Palace

Stage 18
Collect 35 Master Keys- Remove obstacles on the map near the Japanese Gardens
Collect 27 Netsuke- Collect profits from Florist
Collect 12 Incense- Collect profits from Sushi Bar

Stage 19
Buy 2 pieces of land near the Japanese Gardens
Collect 24 Decorative Fans- Collect profits from Ice Cream Parlour
Collect 14 Diamonds- Collect profits from Mansion

Stage 20
Collect 38 Master Keys- Remove obstacles on the map near the Japanese Gardens
Collect 30 Picnic Baskets- Collect profits from Family Restaurant
Collect 12 Paper Lanterns- Collect profits from School, Valley School

The main reward is a new map object "Japanese Gardens"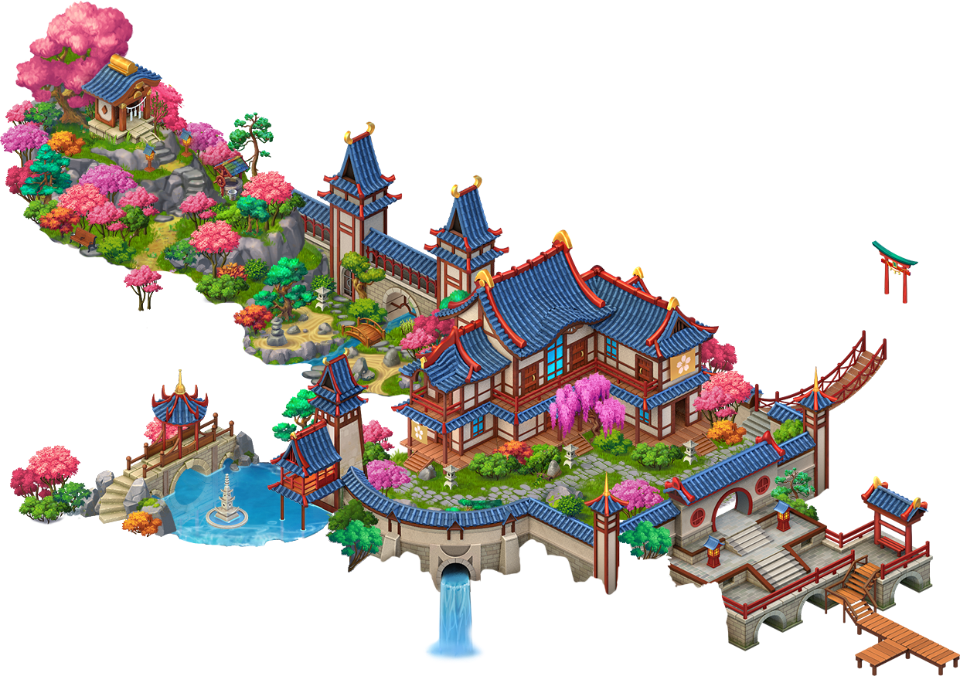 If you manage to complete the quest within 14 days you will be able to receive a bonus building:
Ramen House: size is 4x4 can be placed everywhere