Mayors, have you ever visited Budapest, the gorgeous capital of Hungary?💗 Matthias Church is located right at the heart of this magnificent city which is definitely worth a trip! For now we can only invite you on a virtual trip with us 🤗 Besides Matthias Church, we also have the Fisherman's bastion and the "Northern legends" Park waiting for you in the chests
Requirements: this offer is available to be received starting level 15.
The grand prize is Matthias Church (4,200 coins, 3-4 glass baubles, 2-4 energy every 24 hours, size 7*5, can be placed anywhere).
We also have 2 more bauble dropping prizes:
The Fisherman's bastion: 1,400 coins, 2-3 glass baubles every 24 hours, size 4*4, can be placed anywhere
The "Northern Legends" Park: 1,500 coins, 1-2 energy, 1-3 glass baubles every 20 hours, size 5*6, can be placed in the city center and in the Snowy plateau.
Each chest can be opened with 9 Winter Keys.
There are 3 ways to get Keys:
1. Complete the quests:
No timers! You can get keys during the chest offer only.
Reward: 3 keys + 3 keys + 4 keys.
Way home I
Collect 3 Christmas crackers (Administration)
Collect 16 Pairs of skis (Shoe Shop, Upgraded Shoe Shop)
Collect 11 Bobble Hats (Family House)
Way home II
Grow 33 crops of Cucumbers (Farm)
Collect 9 Sandwiches (Pub, Upgraded Pub)
Collect 8 Lots of milk (Dairy Farm)

Way home III
Collect 47 Carrots (Summer House, Upgraded Summer House)
Collect 22 Smoothies (Convenience Store, Upgraded Convenience store)
Ask friends for 7 Gingerbreads
2. Collect profits from the following buildings:
Windmill (1 key every 18 hours),

Rockefeller Center (1-3 keys every 12 hours),

City Mall (2-3 keys every 12 hours),

The Bridge (1 key every 24 hours)

Christmas theater (3-5 keys every 24 hours)

Hotel Amsterdam (2-5 every 20 hours)

The Scandinavian Church (1-3 every 18 hours)

The Swiss Clock (2-4 every 16 hours)
3. Use the sale offer:
Special Offer: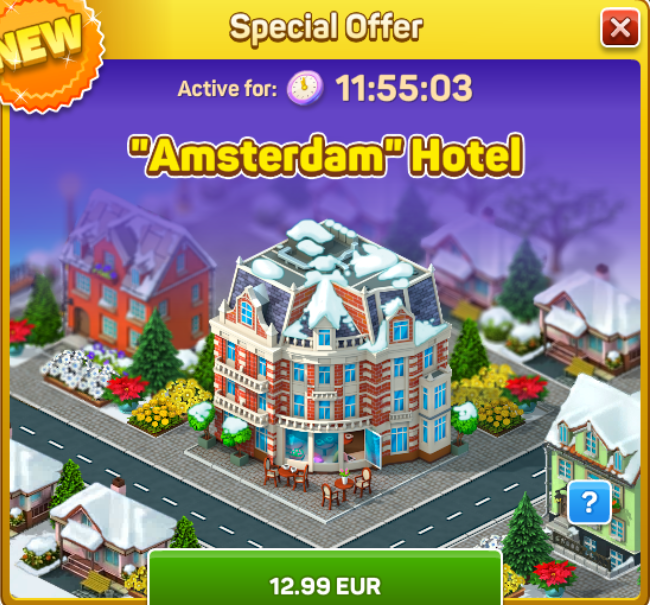 Hotel Amsterdam: 3,300 coins 2-5 glass baubles, 2-5 winter keys during the Matthias Church Chests every 20 hours (5x5 can be placed everywhere)
The Scandinavian Church: 2,200 coins, 1-3 glass baubles, 1-3 winter keys during the Matthias Church Chests every 18 hours (4x5 can be placed everywhere)
Swiss Clock: 2,300 coins, 3-5 energy, 2-4 winter keys during the Matthias Church Chests every 16 hours
City Mall: 3,000 coins, 2-3 glass baubles, 3-5 energy, 2-3 winter keys during the Matthias Church Chests every 12 hours
Rockefeller Center: 2,300 coins, 1-3 glass baubles, 1-3 energy, 1-3 winter keys during the Matthias Church Chests every 12 hours
The Royal Palace of Oz: 14,000 coins, 4-6 glass baubles, 4-6 energy every 24 hour